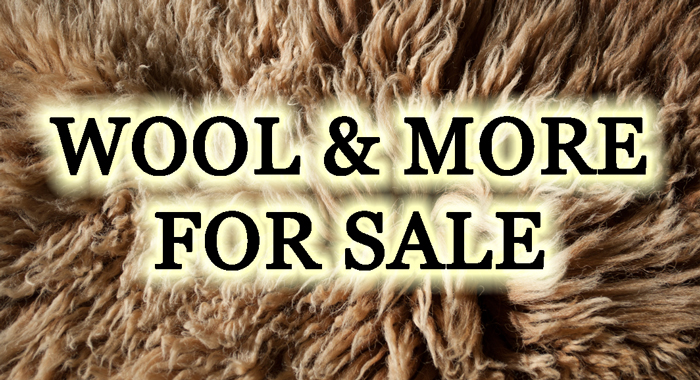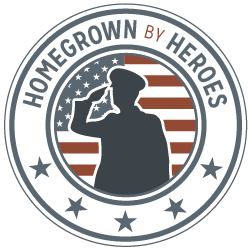 Dot Ranch is a female veteran owned business. All of our wool, pelts, and value added fiber products are certified Homegrown by Heroes.
Navajo-Churro Wool For Sale
While we usually sell our wool in our Etsy shop, we also sell fiber direct. Because we make annual runs to the SW for sheep sales, we can also often bring down large amounts of fleece for our Navajo weavers, along with a special Rez-Direct Discount. To learn more about Navajo-Churro wool, please check out our page The Story of Wool.
Are you a tribally enrolled weaver with short cash and a large need for wool?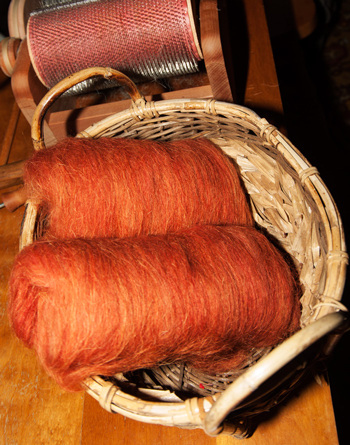 Please contact us, we will trade wool and other products for dye plants, Navajo tea, blue corn, squash seeds, Piñon nuts, corn pollen, or baskets.
We currently sell raw, unskirted fleeces at a steep discount, or skirted fleeces at prices ranging from $25-60 per each adult fleece, $30-80 per each lamb fleece. We also sell washed and carded Navajo-Churro batts, and blended Navajo-Churro/Alpaca/Silk batts. These are priced by the batt, and typically weigh between 3-7 oz per batt. Approximate weights, fiber content, and appropriate use suggestions are included in the description of each fleece or batt.
In addition to natural colors, we have a small and ever changing inventory of all-natural vegetal dyed wool, by the lock or in batts. We use a wide range of dye plants, including many traditional Navajo dye plants and lichens, and sustainably sourced indigo. We also use a variety of mordants, all of which are eco-friendly and septic safe. For specific information on what exact plants and mordants were used, please feel to contact us, as we are very familiar with how allergies can impact your enjoyment of spinning or felting. Each batch of dyed wool is tested for color fastness before release, and we'll leave notes rating how much (if any!) color bleed you can expect from each selection.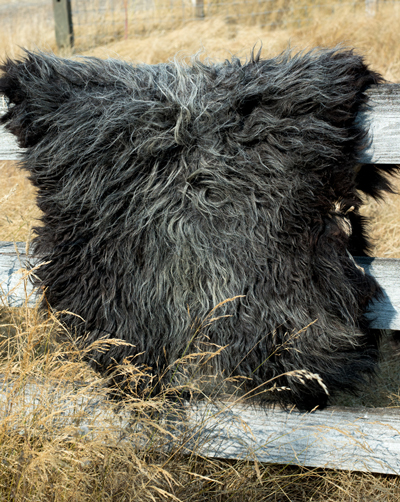 Navajo-Churro and Navajo Angora Pelts
We're proud to present some of the finest quality hand tanned pelts that you'll ever see. Each pelt is fully and completely cleaned, stretched, and tanned by hand. The result is a superior result with all of the textures of natural leather and none of the weird crunchy spots that industrial tanning leaves. Due to our pelts being fully fleshed and tanned by hand, we can leave full fleeces on them without damage being done to the wool. The result is a trophy quality pelt that will last generations as a family heirloom with proper care. Thick and glossy, our pelts make excellent cushion pads for people with rheumatoid arthritis or other inflammatory diseases, and the larger pelts make amazing rustic winter throws. Treat your feet to a luxurious rug on that cold floor beside your bed, or decorate your cabin with a pelt which will be sure to spark questions and conversation. By its very nature, each pelt is one of a kind. Our prices range from $200-450, depending on the size and quality of each pelt. Because they're hand tanned, considerable hours of strenuous labor goes into the tanning process, hours reflected in the quality of our product versus the cheap machine tanned shearling pelts you'll find through retailers. To see our available inventory of pelts, be sure to follow our Etsy Shop, or contact us.
New! Purchase Hand Tanned Pelts direct!
We accept payment by Paypal, or cash for local pickup! Price for pelts includes shipping to continental US. International Buyers: Please contact us before purchasing to arrange shipment, as some countries do not allow the import of pelts.